I haven't done a new releases post in a while, and as I don't have any new posts to share, I figured today is a good day for it. All pictures & descriptions come from Goodreads.
Spiraled by Kendra Elliot – I've listened to the first 2 books in this series and have really enjoyed them. Looking forward to picking up this one as well. All are available on Kindle Unlimited with the narration included.
FBI Special Agent Ava McLane solves crimes; she doesn't witness them. When she's trapped in a mall without her weapon as a shooter picks off victims, she hides with a wounded teen and prays for her survival.
But that's only the beginning…
An epidemic of mass shootings has been launched across Oregon. The young shooters terrify the public, committing random murders before taking their own lives. The task force assembled to solve the case—which includes Ava's boyfriend, detective Mason Callahan—remains stumped. And on top of this chaos, Ava's troubled twin sister reappears, throwing Ava's already-tumultuous life into a tailspin.
An old-fashioned cop with a strong sense of duty, Mason struggles to find the cause of the shootings as the workaholic Ava spins ever closer to breaking down. But can one detective save the lives of countless innocents—and prevent the woman he loves from going over the edge?
The Invasion of the Tearling by Erika Johansen – I enjoyed the first book in the series, though a lot of it had felt slow to me. Still, I've been looking forward to reading the next one. And I just realized it came out last week.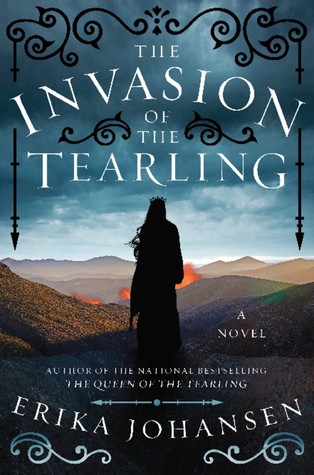 With each passing day, Kelsea Glynn is growing into her new responsibilities as Queen of the Tearling. By stopping the shipments of slaves to the neighboring kingdom of Mortmesne, she crossed the Red Queen, a brutal ruler whose power derives from dark magic, who is sending her fearsome army into the Tearling to take what is hers. And nothing can stop the invasion.
But as the Mort army draws ever closer, Kelsea develops a mysterious connection to a time before the Crossing, and she finds herself relying on a strange and possibly dangerous ally: a woman named Lily, fighting for her life in a world where being female can feel like a crime. The fate of the Tearling —and that of Kelsea's own soul—may rest with Lily and her story, but Kelsea may not have enough time to find out.
The Blade's Memory by Lindsay Buroker – I've loved everything I've read by Lindsay(Flash Gold, Emperor's Edge, Rust & Relics – only read the first 1, and now the Dragon Blood series). I just finished book 2 in this series last night. This is book 5, so I still have a little bit before I get caught up. But, I can't wait to.
The king is missing.
A secret organization is hunting sorcerers.
The enemy has powerful new weapons to deploy, and the capital is more vulnerable than it's ever been.
Worst of all, at least in Ridge Zirkander's view, someone put that jackass Colonel Therrik in charge of the flier battalion.
Ridge, Sardelle, and their comrades have a lot of problems to fix, but they can't show their faces in the capital without being arrested or shot. This time, it's going to take a lot more than magic to save the country.
The Blade's Memory is the fifth installment in the Dragon Blood series.
And this one actually comes out tomorrow, but I'm counting it(my blog, my rules)… Yours All Along by Roni Loren
Four years after an accident tore their friendship apart, Hunter and Devon are living separate lives. Hunter is now the all-America hero—a congressman's son and a pro pitcher in Houston preparing to marry his beauty-queen girlfriend. Devon is in Dallas running a new restaurant.
But when Hunter unexpectedly shows up in Devon's bar, Devon can't turn him away. Damn it if the man isn't still gorgeous. But engaged? Hell no. All he's doing for Devon is bringing back memories of their college-roommate days, and the night their relationship went too far. Turns out Hunter has never forgotten it either.
Now Devon can't help but be drawn in all over again by the only guy who's ever gotten close enough to break his heart. Maybe one more night together would be enough for both of them to finally move on. Or maybe one night will change everything…