Another new release edition of Monday Mentions for you. One of them actually released last month, but it was the end of the month, so it's still new(my definition is flexible). I haven't actually read any of these, but they're all ones I'm looking forward to getting to.
To Get Me To You – Kait Nolan
I've loved everything I've read of Kait's, especially the novella in her Wishful series(Be Careful, It's My Heart), which actually takes place after this book. I have this one sitting on my Kindle, but haven't read it yet. I'm looking forward to it though.
Wishful, Mississippi. From the post Civil War fountain on the town green, to the gossip served along with grits and coffee at Dinner Belles Diner, it will always be Campbell Crawford's hometown–preferably just as it is. The way he sees it, the corporate big-box store that wants to unpack on the outskirts threatens everything he holds dear, but the town's economy demands some kind of change. He's not sure city girl Norah Burke can possibly understand Wishful enough help him turn things around–no matter how much his dog loves her. Norah falls for the charms of the town as hard as she falls for the charms of the man, and she's determined to help. But even if they can get the votes to send the suits packing and get the town on its feet again, can she really give up her corner office and power lunches for the corner booth at the local diner? What's a nice executive like her going to do in a place like this?
Down and Dirty – Liliana Hart
This is the latest book in Liliana Hart's J.J. Graves series. I love this series, as well as her Addison Holmes series. I haven't read this one yet either, but I'm hoping to get to it soon.
Wedding plans are in full swing in Bloody Mary, Virginia. J.J. Graves is ready to walk down the aisle and start a new life—despite the fact her father is still on the loose, blood money is stashed in her closet, and an unidentified body is missing from her parents' bunker.
But it isn't her personal life that's threatening her chance to say "I Do." It's the remains of a brutally murdered corpse found buried beneath a prize-winning rose garden. And the message attached leaves no bones about it—the body is meant for J.J. The clock is ticking as J.J. and Jack search for a killer before he becomes the ultimate wedding crasher.
Last Will and Testament – Dahlia Adler
I haven't read Dahlia Adler's other book(Behind the Scenes), although it is on the list. This one looked really good though.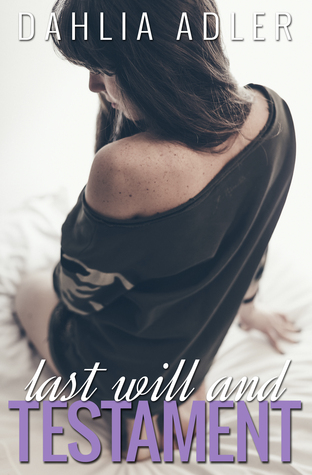 Lizzie Brandt was valedictorian of her high school class, but at Radleigh University, all she's acing are partying and hooking up with the wrong guys. But all that changes when her parents are killed in a tragic accident, making her guardian to her two younger brothers. To keep them out of foster care, she'll have to fix up her image, her life, and her GPA—fast. Too bad the only person on campus she can go to for help is her humorless, pedantic Byzantine History TA, Connor Lawson, who isn't exactly Lizzie's biggest fan.
But Connor surprises her. Not only is he a great tutor, but he's also a pretty great babysitter. And chauffeur. And listener. And he understands exactly what it's like to be on your own before you're ready. Before long, Lizzie realizes having a responsible-adult type around has its perks… and that she'd like to do some rather irresponsible (but considerably adult) things with him as well. Good thing he's not the kind of guy who'd ever reciprocate.
Until he does.
Until they turn into far more than teacher and student.
Until the relationship that helped put their lives back together threatens everything they both have left.
Any new releases that are interesting you? What good  books have you read recently?